Obstacle Park
The adventure park "Jūrmalas Tarzāns" has been established in Dzintari Forest Park in Jurmala with five obstacle tracks provided for recreation of both; adults, and children.
 
The obstacle park is suitable for both; children, and adults and there are five tracks of different levels available. The green track is provided for adults and children from six years of age, and it includes 16 obstacles two to four metres high. The blue track includes obstacles which are rather easy to overcome and lifted up to six metres above the ground, and at the end of the track there is an 80 m long wire track. The red track is made in the height of 8 metres, it includes the attractive "Tarzan's Jump" and a ride by bicycle along the footbridge, flying skateboard and other exciting obstacles. On the other hand, the Black track is provided for those who have greater strength because 14 highly complicated obstacles are placed in the track.
 
"The adventure park is equipped with the latest generation safety system "Speedrunner"of the Swiss company "Kanopeo" and the main benefit of installation of such a system will be prevention of the unstrapping risk. A visitor of the park will be connected to the safety wire throughot the entire particular track which will make all the adventure time safe.
Most trustful safety system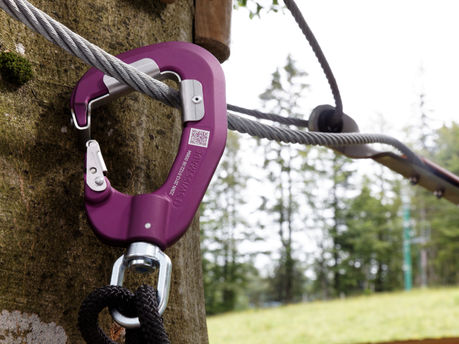 Obstacle park is equipped with a new generation safety system of Swiss company Kanopeo providing that each visitor of the park is continuously attached to a safety rope during the whole course thereby your adventure will be safe.
Obstacle park
Children (3-7 years old) / Obstacle Park

Children (7-10 years old) / Obstacle Park

Teenagers (10-17 years old) / Obstacle Park

Adults 18+ years / Obstacle Park
Gift cards
Gift card

10€

Info about giftcard

You can use gift cards against any attraction or package ticket purchase

Gift card

20€

Info about giftcard

You can use gift cards against any attraction or package ticket purchase

Gift card

30€

Info about giftcard

You can use gift cards against any attraction or package ticket purchase